Episode 10 with Jonathan Oliver and Cody Lust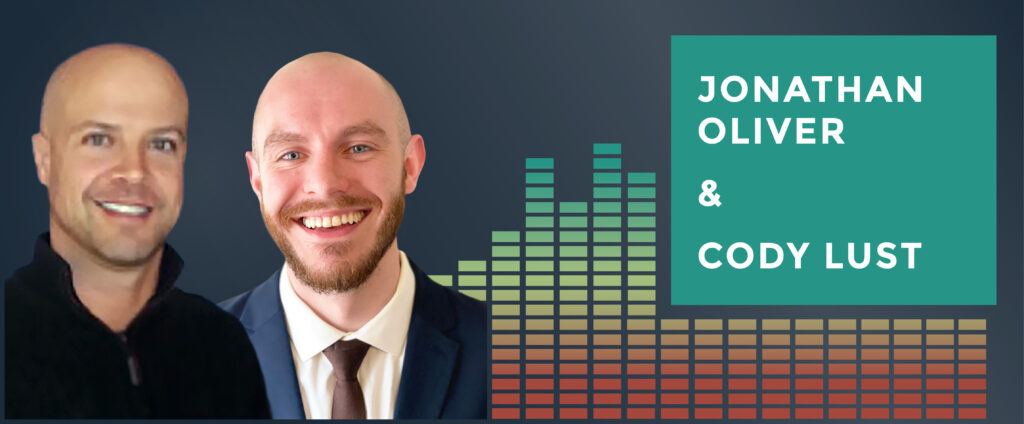 Speaking to coaches, parents, and athletes, Dr. Oliver and Cody Lust discuss what they learned about head trauma and omega-3 from their research in Division I college football players.  Does omega-3 provide protection for the brain?  What are the omega-3 levels in athletes today? Huddle in to hear about concussion vs. repetitive sub-concussive impact, function vs. optimal intake of omega-3; should football be banned and what about other sports, such as soccer, rugby, gymnastics, and hockey? 
Topics Discussed
Introduction to concussion and sub-concussive impacts (2:25)
DHA omega-3 related research (6:01)
Omega-3 dose response in collegiate athletes (12:30)
Recommendations on omega-3 intake (19:18)
Should we ban contact sports? (22:31)
New research on omega-3 and concussion (27:09)
Resources Mentioned in this Episode
Disclaimer:
Any statements on this podcast are the opinion of the scientific guest and/or author and have not been evaluated by the FDA. The information we may provide to you is designed for educational purposes only and is not intended to be a substitute for informed medical advice or care. This information should not be used to diagnose, treat, or prevent any health issues or conditions without consulting a health care professional. If you are experiencing a health issue or condition, we suggest you consult with your health care professional.
00:01
What I tell parents is that if I told you that if you stood your child on his head for five seconds a day, that there would be some protection against these detrimental perhaps effects of sub concussive and concussive injuries? would you do it? The answer is always a resounding yes. But for some reason, they get caught up in this idea of a supplement.

00:26
Hello, and welcome to the science and the story behind omega-3, a podcast brought to you by Wiley companies, where we explore one of the most researched nutrients on the planet. Listen in as global omega-3 experts and researchers translate the science, reveal personal insights, and share their stories of discovery while navigating the sea of omega-3 science.

00:56
Thanks for joining us today. Now, here's your host, Greg Lindsey.

01:03
Thank you for joining us for another episode of the science and the story behind omega-3 where we talk with experts from all over the world. Today we are excited to have a conversation with two experts in Sport Science, kinesiology, and human nutrition. Our first guest was the lead researcher for a study that investigated the relationship between omega-3 and head trauma and National Collegiate Athletic Association division one football athletes. It was the first study of its kind, and he has continued to bring awareness and research to this very important topic. Our second guest hails to us from Canada, and we will hear about the work he is doing to help further understand the relationship between omega-3 and head trauma in contact sports. We are pleased to welcome to the program today, Dr. Jonathan Oliver. And Cody lust. Gentlemen, welcome. Thank you so much for being with us. today. We're eager to hear from both of you. So, let's dive right in. concussion has received considerable attention over the last several years. I recall the movie in 2015, with Will Smith that highlighted damage associated with the sport of football. But I understand now that concussions aren't really the problem. Can you tell us a little bit more about that? You know, it's really not that concussions are not the problem. It's just that they're not the only problem. I think what a lot of people don't understand is that concussion is just based off the clinical manifestation of functional disturbances in the brain. What that means is that if we were to put someone through a normal scan, you wouldn't see any changes in the brain. And so the symptoms arise. And those symptoms are what get diagnosed as a concussion. So the impact itself caused some damage in some area of the brain that resulted in a symptom. But that doesn't mean that all had impacts don't result in some type of damage. And that's what we mean when we start talking about concussions are not the only thing that we need to be concerned about. There are these other impacts that are routine that we identify as sub concussive impacts. And when we think of sub concussive impacts, think about the routine impacts that happen in soccer. For instance, the headers are a simple fall in gymnastics, or even the routine tumbling that happens in gymnastics, tackling in rugby, and pretty much anything you do in hockey and or football. Those sports involve repetitive sub concussive impacts, and so they don't meet the threshold of a concussion because they don't result in symptoms. But new research has come out and using the same advanced imaging that's needed to look at concussions, we can also tell that those sub concussive impacts caused some type of damage to the brain. And even more importantly, of course, a major traumatic brain injury is going to cause long term consequences. But there's evidence now that these sub concussive repetitive impacts actually lead to more neurodegenerative processes than a single concussion. And when I say a single concussion, a mild TBI, not a major TBI.

04:14
So if you think about these routine impacts that have happened during routine season of football, they've even seen that on scans that you can see that at the high school level, so when you have athletes, and we've done some research on biomarkers, which are surrogates, of some of the damage that occurs in the brain, because obviously that's a little bit cheaper to do, and it's less invasive than having to go and have a scan done. And what we found is that over a course of a season of football, that you can see changes in these blood biomarkers indicative of brain damage, that correspond to the time in which head impacts increase in magnitude and or number. So if you think about over the course of a season, what do you expect to see with these markers, one in particular that we call neural

05:00
filament light or NFL for short. It's more of a long term, it stays in the system a little bit longer. And what you see is elevation that increases over the course of the season that almost peaks at the end of the season, and then goes down afterwards. Now there's another biomarker called tau, which has received considerable attention to, but that marker seems to only be elevated in the very short term. So it's just interesting that when you look at these that you're seeing some type of damage associated with this long term sub concussive impacts. And so when we say that concussions are not the problem, it's that they're not the only problem, and that we really need to dig a little bit deeper and find out what the effect the sub concussive impacts have on long term brain impacts, as well as the short term.

05:46
So that's interesting, a marker of head trauma with the abbreviation of NFL. Since that was one of the markers within this study. What did you find with those athletes who took omega-3s and specifically DHA?

06:02
Well, I know on this show, you've talked a lot about the benefits of omega-3s. We focus solely on DHA for one reason. And that's really because in the literature, looking at brain development and looking at concussive injuries, there have been no studies that really teased out the difference in between EPA and DHA. And so just to make it easier on the initial study, we wanted to look at the effect of DHA. And before we kind of get into that, I think it's important for the listeners to know why is DHA important in the brain. We know it's important for cognitive development, which is why it's included in infant formula. And Funny enough, there was a recent study that came out in a pretty high impact journal that talked about the evolution of the human brain with greater intelligence associated with the time in which fish started being incorporated in the diet. I thought that was very interesting. Anyway, for those impacts that we discussed, the answer is that DHA is the primary phospholipid in the brain serving as a structural component. So when I give talks to small groups, I always try and bring an egg for every person in the audience. At the beginning, I'll pass out these eggs, and I asked them to place it against the head of the person next to them, and I say on the count of three, I want you to crack the egg on that person's head, I say but before you do, half of the eggs in this room are boiled, hard boiled, and half of the eggs are not, some of them would overwhelmingly go ahead and crack that egg either way, but most people aren't willing to do that. So when we think of DHA in the brain, we really think of it kind of hard boiling the brain, if you will, it sets up a structural component to where it's a less easy to shape the contents of the brain.

07:47
So what we found with the athletes taking omega-3s, or DHA is that the increase of this marker NFL, or neurofilament light, which is indicative of head trauma was less in those players that we're taking DHA. And that occurred in across opposition's, but more importantly, it occurred in those that we identified as starters. And starters are the ones who take the majority of the plays in the game, and also receive probably greater impacts as well, because they're playing because they're greater size and they're greater speed. So that was really interesting, because for a long time, we've seen in animal studies that there is a beneficial effect of omega-3s on the brain and impacts but this was the first time a large scale study in humans produced any similar results. There are some isolated clinical case studies, but this was the first time there was any indication that DHA may truly be helping the brain in these different types of impacts in the real world.

08:47
So you didn't use EPA? And you explained a little bit why but based on what you know about EPA from other research, would you recommend athletes also consume EPA? Yeah, so a short answer your question, Greg, which Jonathan alluded to, is that you should consume EPA along with DHA, and you typically do get them from the same food sources and even in the same supplements that you'll buy. And asides from some of the logistical and practical reasons that Jonathan mentioned, EPA and DHA each have their own unique downstream phospholipids, which studies or funding can impart differential effects. In particular, there's literature which finds EPA shown to better improve upon mood disorders compared to DHA so in this context in a landscape of concussions and sub concussive impacts, this will be beneficial for the long-term detriments we're seeing, particularly in these football players. You're hearing some of these awful news stories of basically how their mood is really impacted how that affects the decision making later on. Additionally, a combination of both would really only help to increase the omega-3 index as well, which there are numerous studies obviously highlighting how and increase omega-3 index confers health benefits. I know in some of your past episodes you've had on Dr. Bill hare

10:00
And your conversation with Dr. Kristina Jackson as well really goes quite in depth into the conversation on the omega-3 index and some of those factors. So I would say for listeners, those are really good talks to listen to as well, that might get a little bit more in depth than we might get here considering we're focused on DHA in the brain in this compensation, at least in reading your study, I know there are varying dosages which you used, and some of those were very high. I know football players are large, but do they really need that much those higher doses? And I guess my next question is, did you get pushback on that? No, we didn't. It's kind of funny that in working with athletes in the medical team, at Texas Christian at the time, it was one of my best experiences I've had working with sport, the medical director of the time, who she's still there, Dr. Kurt gay, well, and the head athletic trainer, David Gable were both highly supportive. In fact, she had been recommending omega-3s for recovery for concussion for some time following a protocol that was provided in one of the clinical case studies. So yeah, those doses were very large. But we were really trying to figure out two things in this study, we were trying to identify the optimal dosage, as well as whether or not the omega-3s actually provided any type of neuro protection. So there's a study that's been around Actually, it's not a study, it's reviewed, it's been around for some time that reported that above two grams, only minor increases were observed in those markers of incorporation that we look at. But we knew that football players were larger, and that they participate in heavy, heavy physical activity, both of which influenced the incorporation of those omega-3s into the body. So we wanted to look at all three in in the initial study that you refer to now, we looked at the beginning, and we looked at the last. But over the course, we actually looked at the effect of these fatty acids in the blood markers, which are indicative of kind of tissue incorporation. So since then, Cody has been looking at these data more extensively, and has found some really interesting findings, that it's really practical for dieticians, and parents and starts to give us a better view of what the recommendation should be for this population, and perhaps the broader average population to

12:28
Yeah, and so to start, I mean, optimal is obviously a very strong word, especially in this realm of dietary supplementation. But our plenary findings are very exciting from both a functional standpoint, and also a practical standpoint. But I think, as always, we're all working towards optimal in our research trying to find those, those magic numbers that exist. So what we knew going into the study is that collegiate football players and just collegiate athletes in general, had very minimal intake of omega-3s in their regular diet. And this is based on using omega-3 index values. So as a bit of context for listeners, anything above 8% is desirable, anything below 4% is more or less deficient. And Jonathan actually published a paper in 2019, which looked at 400 collegiate level athletes, 1/3 of them have below 4% on the omega-3 index, and none of them serve zero, the 400 score above 8%. Wow, that's showing a problem immediately, like already. So in addition to the work, Jonathan's done, I've been working on a sister paper, essentially looking at the dose response in blood plasma, and red blood cells on these football players, which follows their DJ supplementation across the season. So we had separated them into the four groups. So we had a placebo, and then either two, four, or six grams per day of DHA. So this type of limitation, as I mentioned, that took place over the entire season. So that's about 27 weeks or so in length. And what we're seeing in our early results is that there's a clear dose response between each supplementation group, with the six gram per day group consistently exhibiting the highest peak RBC, and plasma DHA values, and not only more peak concentrations higher, but the time course of reaching 8% on the omega-3 index was also much faster. So all groups at baseline averaged 4%, as we saw in the previous study. So starting off, like I said, more or less deficient on the low end of this index. What's important is that the group supplementing with six grams a day of DJ was able to reach the 8% threshold as an average value in only eight weeks. So effectively doubling their values. And this all occurred before preseason training camp even began. So this is just a start of summer conditioning to the end. It's fascinating that zero out of 400 or at a percent or higher, was that expected? Yes.

15:00
Actually, North America, as well as the entire world does not consume enough omega-3 fatty acids. That's just the fact. And, a colleague of mine followed up our study, and I think she did 1500 athletes, not just football athletes, and she found the same thing. We're we don't have access to fish. And just because of dietary preferences, people don't want to sit and eat fatty fish. And just so everyone understands the amount of DHA, or omega-3s that we were getting, it's basically the equivalent of eating six to eight ounces of raw fish a day.

15:39
I love sushi, but I'm not going to stomach six to eight ounces of raw fish on a daily basis. And you think of college students, you think of kids, they're not going to consume that. And I think that is the take home message, for me to everyone is that omega-3s are not going to be consumed in adequate proportion, a supplement is necessary. And I've always been a food first approach type person. But in this case, you're just not going to get it. It's kind of like living in Alaska and expecting them to get vitamin D during their dark season.

16:19
So I'm the parent of a college football player. So what would you tell parents? And I guess more importantly, what do you think the research is telling us most, especially for? You mentioned a lot of sports. But if we're focusing on football, what do you tell the parents

16:36
take omega-3s, I mean, it's a no brainer, or it's a brainer, as I've said in the past, it's really important for development, it's important for a host of other things. And, you know, you said college, and I want to be very specific on this. I think it needs to start way younger than college, I think it needs to start as children. And I think it needs to develop as a habit. And I think, for children, I offer a couple of thoughts. And I've always said this, when I give any type of talks, we know that DHA, as I said, is important for cognitive development. So much so that we included and cognitive development does not stop after infancy.

17:16
The importance of omega-3s for the brain are really unequivocal. And they've shown it so many times in animal studies. And there will always be the naysayers on the human side that says, Well, you can't convert those into human studies. And you'll never be able to study concussion, or head trauma in humans. And the reason for that is I was at a conference one time, and someone says, if you've seen a concussion, you've seen one concussion, because each concussion manifests differently, because what happens in the brain is so different. Whereas when we look at animal studies, the way they induce a concussion or any type of head trauma, it's very much the same. It's a modulus, whereas an impact in football, you see them every day. There every one is different. And so it's really important to remember that. And all of the studies in animals have continually shown that omega-3s provide a neuro protection for the brain. Now, what I tell parents is that if I told you that if you stood your child on his head for five seconds a day, that there would be some protection against these detrimental perhaps effects of sub concussive and concussive injuries, would you do it? The answer is always a resounding yes. But for some reason, they get caught up in this idea of a supplement. So I tell the parents, if you would allow them to do the stand on the head thing, why don't you allow them to take a supplement, it takes less time, and it can benefit you and the whole family, and help them to start developing habits.

18:56
Like what you hear so far, make sure you never miss a show by clicking the subscribe button now, this podcast is made possible by listeners like you. Thank you for your support. Now back to the show.

19:13
So what about other athletes in the average population?

19:19
So omega-3 deficiency is so common in North America, I think whether you're a mom or a professional athlete, no matter what the sport, everyone could benefit from increasing the omega-3 intake. That being said, People love round numbers, that eight glasses of water a day 10,000 steps, something easy to remember. So if I was to recommend something, if you're starting off, aiming for 250 to 500 milligrams of omega-3s is a great target for the average person. I also wouldn't get too hung up on specific values of EPA and DHA. Obviously, we've talked more about DHH here, but really the first thing we should focus on is reducing deficiency. We talked about how even looking at these

20:00
called football players, majority of them were deficient. And those are people who are looked at daily by people in health care and working at improving their health and fitness, not just the average person who's too busy to think about taking a supplement or increasing their fish intake. So I think first you need to reduce deficiency, then you can optimize then you can look into I want to increase DHA, or EPA etc. But I do think one of the trickiest things for the general population to wrap their head around, though, is simply finding this information and knowing how much or how many omega-3s they should be consuming, and where they get it from, and what food sources and what benefits one supplement may have to another. Currently, I know in Canada, there's no RTA for DHA, EPA. So if you're someone who looks at government bodies, then you may not be getting that information. So in depending on which agency you look at, this also may be slightly different depending on where you are in the world. So one agency in Australia versus one agency in Canada versus America, or somewhere in Europe, may recommend slightly different numbers than what I'm saying here. So this is something really important that our lab discusses internally a lot. And it's where some of our work that we're doing currently is hoping to help out in the future, which is helped create some of these policies make a little bit easier for people to look on a back nutrition label and see this is how much percentage of something you're getting for your daily value. And I think it's also important to remember too, that six times a day that we're talking about these studies are four grams a day, this is a research context. So in the purposes of research, we're trying to push boundaries, we're trying to do a little bit more, we're trying to open these doors and figure out answers to these new questions. So overall, I think that more is better. Especially if you're active, especially if you're an athlete, especially if you're larger, in general, larger people, whether it be by height, weight, just need more. So I'd be comfortable recommending that to individuals as in taking more, but really, we approached for the average population on becoming less deficient. And having then the question about optimization from that point on, because it's just it's so important for so many health benefits that we've talked about today, whether it be brain health or cardiovascular health, even retinal health as well. And so really just intake more focus on that, eat some fish take your supplements, and that is the best advice I think we can give.

22:22
The gentleman the final question, as someone that loves the game of football, I have to ask should this sport be banned?

22:30
There's something obviously about sport in and of itself that creates this idea of a brotherhood or sisterhood and instills certain traits and values. And we can't deny that whatever the sport is. But I am not at the point in my career, to say that football shouldn't be banned by any sense of the word. I think there's still a lot more study that needs to be done. And I think we've done not me personally, but I think the different organizations are doing a much better job at putting in place rules that limit the more harsher impacts that could come about. And so I'm just I'm not ready to say no to football. And if you say no to football, then you'd have to say no to rugby, and if you say no to rugby, then you're going to have to say no to Cody's favorite sport, which is hockey. Yeah, so, being Canadian, I didn't actually play football growing up. But as Jonathan mentioned, I played ice hockey, I played ice hockey all through my youth. And even recreationally now as well. And I don't think these sports should be bands. And they've received similar criticisms, as Jonathan mentioned. And so for example, in candidate body checking has been banned for certain age groups, depending on the level of play. And there has been studies that have found that there's significantly decreased the amount of injuries that have occurred. That makes sense. But as Jonathan mentioned, I think there's an inherent risk in any sport, even having a soccer ball is brought up earlier, which is coming up a lot in the sub concussive impact papers. And that's a non contact sport. And that can lead to brain injury. And I really do believe sporting bodies, coaches, parents, especially, and even athletes are becoming much more aware of the relevant risks and can use that to make better informed decisions regarding participation the future. In Ontario, for example, there's something that has come out, which is Rowan's law, which is been really helpful and beneficial towards the protection and the safety and the general awareness and understanding of concussions. This may change as I get older, when I have my own kids and how I feel about putting them into contact sports. I had a fantastic time playing sports in particular, and I I see their place in the culture, just for recreational purposes but also health wise and building upon those, the camaraderie and also some of those traits that are a little bit more intangible that you can't really get elsewhere. And really, ultimately to I think that the research others are doing even aspects of this research that we've discussed today. I hope that can help lead to improve

25:00
nutritional recommendations, which is a small slice of this big pie, but it can really help with brain health, and it can help athletes and the parents and everyone involved, just have a greater confidence and that they can maintain their health, not only inside the game, but outside of the game, because ultimately, we want people to be healthy for long term, not just for the peak performance moments in our life. And if we can help with that, and some of this research can be utilized there, and people can cite that, then I think that, that's fantastic. And it makes me really happy as a young researcher to see that. And I think John's can probably attest to that, too. Yeah, you know, sport, as Cody said, It's full of potential injuries, you know, you run all your life, you could end up with a knee replacement. Unfortunately, we can't end up with a brain replacement. So that's kind of where concussions and head trauma get a little more consideration. But with the emphasis on concussion, as it has been, is more being reported. And I have to say that I think that's because of greater awareness, and being aware of the potential of a concussion happening in any type of play. And so athletes themselves, coaches, athletic trainers, they're all being a little more cautious, which I think is a good thing to do. And I've seen sports outside of football, that the list of injuries were much more kind of scary. When you look over the course of a season, then when you look at football, and one of those sports is cheerleading. And a lot of people don't understand what they do is pretty impressive, but it's also highly risky. And I don't think we can start looking at all sports like that.

26:47
Well, I appreciate that. You know, I took a lot of heat from my coaches from for running out of bounds pretty consistently, but I feel like I'm ahead of my time.

26:55
Yeah. Avoid they told me to go over the middle. I don't I don't even know what the middle is, man.

27:03
Well, gentlemen, thanks so much for being on the program. And is there anything else you would like to share? I want to say one thing. We've now done this, and this is new results. Cody, you don't even I just found these results out this week. So we've repeated we've repeated this study. And as I said before, one of the chief complaints from those naysayers is that you'll never be able to look at head trauma in a homogenous type group. So we said okay, we'll, we'll take that bet. So we decided to redo the entire study with football linemen. And the reason we chose football linemen is if you think about it, their impacts are very much similar from offense to defense. I mean, they're the ones who consistently impact on every play. And they're not necessarily going to be those big major impacts that you see with a running back running through a home. So we've done that study, and we've got brain scans over the last four years. And we also chose to look at that biomarker, NFL again. And instead of looking at over the course of the season, we decided to look at it over a single game and the time period afterwards. So we went before the game immediately after the game, and each day for another week. And I think we even went up to 14 days. I just got the results from my colleague, and she said that again, omega-3 showed an attenuation of that marker. And so that's the third study now, that saying that, yes, there is a potential benefit. And this is what the most homogenous group you can do in football. So I think that's, you know, I'm hoping this study puts the nail in the coffin of the naysayers. Interesting. Gentlemen, thank you so much for being with us today and being part of our program to share this very important research and thank you to our listeners. And as always be healthy, be well and fight the good fight.

29:04
This has been The Science and The Story: Behind Omega-3. Thanks to our sponsor, Wiley companies. You can find them and more information about our show at Wiley co.com slash podcast. If you enjoyed today's episode, don't forget to subscribe wherever you get your podcasts. Thanks for listening, and we'll catch you next time.

29:33
Any statements on this podcast are the opinion of the scientific guests and or author and have not yet been evaluated by the FDA. The information we may provide to you is designed for educational purposes only is not intended to be a substitute for informed medical advice or care. This information should not be used to diagnose, treat or prevent any health issues or conditions without consulting a health care professional. If you are experiencing a health issue or condition we suggest you consult with your healthcare professional