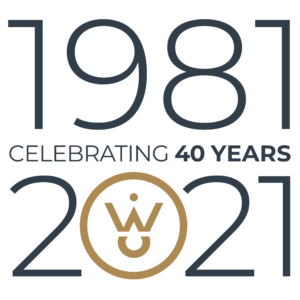 Let the celebration begin. In June, Wiley Companies turned 40 years old! While this age can sometimes be referred to as 'over the hill', for Wiley Companies it's just another step in an incredible journey that began in 1981, when David, Vincent, Dorothea and Paul Wiley decided to leave Albany International and launch their own company, Wiley Organics. The company, originally based out of a 13,000 square foot facility on Kenny Road in Columbus, published their first catalog that same year, listing some 1,500 research chemicals.
On October 28th, 1986, the front page of the Coshocton Tribune read, 'Wiley Organics to come to Coshocton'. In a briefing for Coshocton civic leaders, David Wiley announced that he expected to hire 50-100 people at the Coshocton plant by the end of 1987. David was later asked by a reporter why the company chose to come to a more rural part of Ohio for its relocation, and he responded, "We're more country folks by nature than big city, Madison Avenue". Even with multiple business expansions and a footprint that expands the globe, the company has called Coshocton home for the past 35 years.
Wiley Companies has grown from a boutique custom chemicals company to one of the most respected manufactures of fine chemicals and nutritional supplement and ingredient products, with some of the world's most recognizable brands. With a focus on innovation and customization, Wiley Companies has the opportunity to make a difference around the globe. Whether it's the creation, testing and production of a key nutrient used in tube feeding, a dietary supplement to improve overall health and wellness, or a fine chemical product developed to enhance mechanical performance – the company takes great pride in nurturing new product innovation, and to seeing them come to life.
With recent expansion, including increased capacity for AlaskOmega branded products, the introduction of NovaPine plant sterols and exciting new opportunities coming out of Wiley Innovations – the sky is truly the limit for Wiley Companies, and the future of our now 40 year-old organization. We are poised for growth, but our 'helpful spirit' and desire to make the world a better place will always prevail.