There's a new podcast coming to town, er, wherever you listen to podcasts! 
By Gretchen Vannice, MS, RDN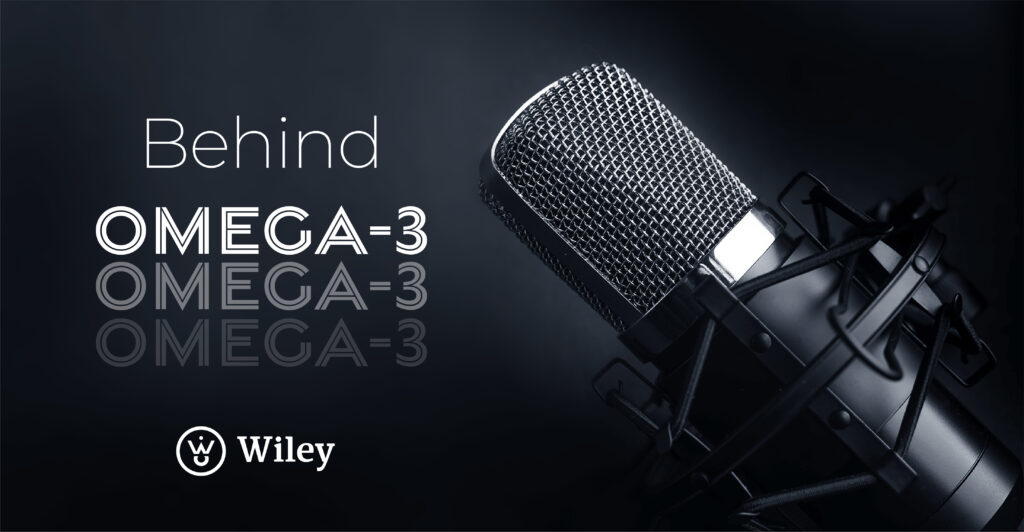 Omega-3s are cool.  Podcasts are cool.  Now there's a podcast dedicated to Omega-3s!
Omega-3 fatty acids are among the most researched nutrients in the world. This new podcast The Science and The Story: Behind Omega-3, launching 3/30/21 is where you will find interactive discussions with leading scientists, manufacturers, nutritionists, and other global experts. We dive in, headfirst, to explore the science, to hear stories of discovery, to understand what these nutrients are, and why they matter.
Like all vitamins, e.g., vitamin C and folate, and minerals, e.g., magnesium and zinc, omega-3s and omega-6s are also essential nutrients; they differ from vitamins and minerals as they are fats. Fats that comprise our brain, eyes, heart muscle, joint tissues, and more. Most of us understand the need for vitamins and minerals, but we don't understand the need for omega-3 or how to get enough of them to support our health. This is ironic, really, given the strength of the science and knowledge learned over the past 50 years.
Translating the science and addressing the gap between knowledge and application is where The Science and The Story: Behind Omega-3 lives.
Immune health is popular, and we hear that inflammation is part of immune health, but how do they relate?  You will hear from Professor Philip Calder, expert in nutritional immunology, former editor of the prestigious British Journal of Nutrition and past-president of the International Society for the Study of Fatty Acids and Lipids. All I can say here is get ready for the fire brigade!  What? You will need to log on and listen in.
What's your Omega-3 Index? Do you know your number?  You will hear Dr. Kristina Jackson, Research Director at OmegaQuant Analytics discuss what the Omega-3 Index is, and why you might want to know your number.  Learning your omega-3 level can be done with a simple, at-home test. What factors impact the test?  From moms to athletes, Dr. Jackson shares what she has learned in her research.
Speaking of athletes, Dr. Bill Harris, founder of Fatty Acid Research Institute, shares results from a study on omega-3 and heart rate recovery. He also discusses a new paper on fish oil and LDL-cholesterol and the findings may surprise you. In the interview, Greg Lindsey talks with Dr. Harris about his 40-year career and why he founded the Fatty Acid Research Institute (FARI) in 2020. You will learn what FARI is about and what his team is set to accomplish.
Curious about the basics on omega-3?  Gretchen Vannice, registered dietitian nutritionist with her 18-year career in omega-3 research and education, aims to set the record straight. She describes what omega-3s are, where to get them, and who needs them.  Getting enough omega-3 to meet nutritional needs is simple enough to do when you know the way.
And this is just the beginning! This new podcast, The Science and The Story: Behind Omega-3 will be exploring the role of EPA and DHA omega-3 in pregnancy, in your genes, and how it gets into your brain.  You will hear how fish oil is manufactured and differences between fish oil, krill oil, and algal oils. Why is omega-3 called omega-3? Who named it and how did they arrive at that name? How did this line of nutritional inquiry even start; who thought the nutritional benefits of fish and seafood might differ from beef and pork? If nut, seed, and olive oil is good for us, why fish oil? Do children and teens need omega-3, or can you skip from their essential role in human develop during pregnancy tor their cognitive and heart benefits in old age?  And what about athletes? What about vegetarians? What's the science and what's the story?
The Science and The Story: Behind Omega-3 is a new opportunity to explore omega-3 nutrition in a unique way, to hear directly from the source, glean practical tips and fun trivia, and get news you can use.
Gretchen Vannice is the Director of Nutrition Education and Research for Wiley Companies.  She is a globally recognized expert, author, and speaker in omega-3 research and education.
Disclaimer: This information is offered for educational purposes only. It is the opinion and scientific interpretation of the author. It is not intended as medical advice of any kind. The educational information provided is not intended to diagnose, treat, mitigate, or cure any disease nor has this been reviewed or approved by the FDA.
Scientific References are available upon request.